Acquisition Management
The general notion when it comes to an acquisition of a business is to focus on the actual acquisition phase, finding an acquisition target and closing the deal.
The vast majority of the acquisition value is generated or lost during the post-acquisition phase though. An acquisition that has been planned thoroughly considering all elements of your existing business and then executing it to ensure a smooth integration is the best foundation for preventing any hick-ups for your existing organization.
The full strength of the Globalator offer lies in our ability to work seamlessly from the early acquisition planning stage all the way to supporting you well into the integration process.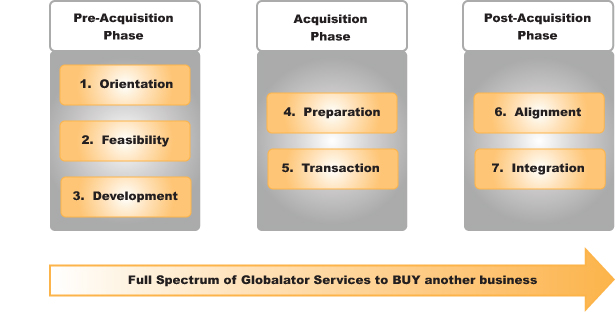 While Globalator is ready to support you all the way throughout the acquisition process, not every assignment requires the full range of our services. We always tailor our services to the actual needs of our clients.
Unlike most competitors, we not only help with the early planning and evaluation of alternative strategies to an acquisition. We are also prepared to stay on board with you after the acquisition has been completed and work
alongside with you towards the efficient integration of the business. In many cases we even go as far as taking interim CEO roles for the newly acquired business to ensure a successful acquisition.