Exit Management
The general notion when it comes to the sale of a business is to focus on the actual exit phase, preparing the business for the transaction and executing it.
The vast majority of the exit value is generated or lost during the pre-exit phase though. Building and preparing a business for the sale, considering all the steps towards integration on all levels, is the best foundation to secure a highly successful exit.
The full strength of the Globalator offer lies in our ability to work with you seamlessly from the early exit planning stage all the way to supporting the integration process of your business operations with the acquiring entity.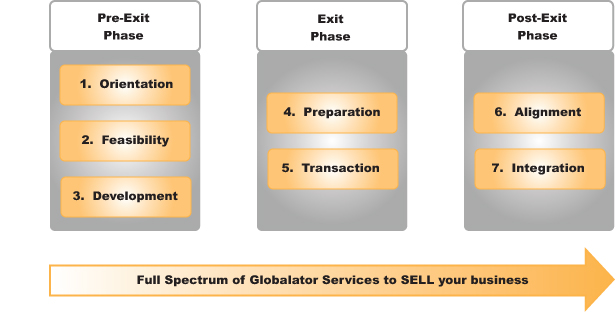 While Globalator is ready to support you all the way throughout the exit process, not every assignment requires the full range of our services. We always tailor our services to the actual needs of our clients.
Unlike most competitors, we are ready to start working with you even years before the sales event, to prepare your business properly for the actual exit phase. Moreover, we are prepared to stand by your side supporting you during the rather stressful aftermath of a deal, until integration with the new owners is well on its way and all your interests have been secured. Throughout the process we enable you to stay focused on your business, while we steer you towards a successful exit.