Build-to-Sell with Globalator
Globalator started in 2001 and is focused on enabling the best possible exit scenario for companies that want to sell their business. We understand that simply selling a business as it is adds very little value to the owners. Therefore we engage with companies 1-3 years before an exit and optimize the business for their ultimate strategic transaction. Moreover, we stay on board with the company well into the integration phase after the exit and ensure that the transition is managed properly.
Business owners often make the mistake to believe that the sale of their business is a simple transactional process that is started 3 months before the exit and ends with the exit agreement a few months later. Nothing could be further from reality. Like many other things in life, proper planning and preparation is more than half the bet. We take a managerial approach to an exit and generally join companies on their board level and help them to build a sellable company. We are neither investment bankers nor traditional consultants. As experienced managers ourselves we understand that business owners often are not just looking for financial returns, but also for other factors, like to secure the future of their trusted employees, or to ensure that a founder-CEO longer needs to be part of the management once the company is under a new ownership. Only a proper Build-to-Sell process can achieve all of this, besides the best possible financial outcome.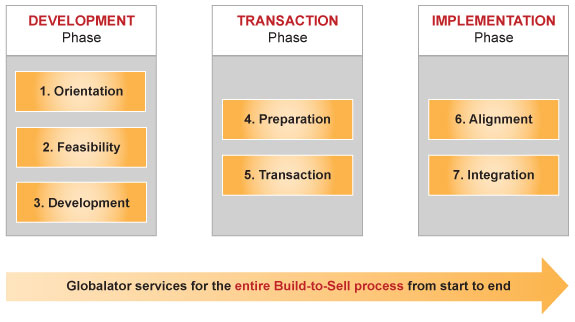 As outlined in the graphic above an optimized Build-to-Sell approach that Globalator embraces encompasses three distinct phases.
The initial development phase is where most of the value is created. After an understanding of the planned journey (orientation) and a feasibility check thereof, the company enters into a development phase, where the business is optimized for the exit. Depending on the goals and time frame intended this may include making other acquisitions in order to gain critical mass.
The actual transaction phase is where the existing value is captured, but where value generation is usually the lowest. Potential purchasers are determined, approached with a sales document (information memorandum), and a deal is negotiated.
The early preparation for the final implementation phase is mostly overlooked in business practice. It has the potential to create additional value through earnouts, provided that a business has been prepared properly in a build-to-sell process to flourish under new ownership. Unfortunately 70-90% of acquisitions are abysmal failures in the hands of the new owner (according to an article in Harvard Business Review from June 2016).
Globalator is unique in its approach to offer full management services from the development phase well into the implementation phase to ensure the best possible deal from a financial and emotional value perspective for business owners. We are not just in the value capturing business, we are part of the full value generation process, of which value realization is only one part of.
Globalator offices are located in the USA (San Diego, California), UK (London) and in Austria (Vienna).