Strategic Transactions Done Right
Globalator is an innovative specialist for the management of successful international strategic transactions, including alliances, licensing deals, spin-offs, acquisitions and divestments. International growth initiatives based on strategic transactions often fail to result in value creation. By using our Transaction Based Growth ManagementTM approach combined with the fact that we provide experienced managers and CEOs instead of consultants, joining your CEO and senior management team we secure the long-term success of your strategic transactions as part of your team.
Our engagement executives work on all main transaction-based growth strategies. If you use a Build-to-Sell strategy your intent is to build a company towards a successful sale (often also referred to as an exit). If you use a Build-to-Grow strategy your intent is to expand your company continue as a stand-alone entity (sometimes over several family generations). If you use a Buy-and-Build strategy your intent is to build a new company from the start, but based on the purchase of one or several acquisitions (the latter one is also referred to as a roll-up).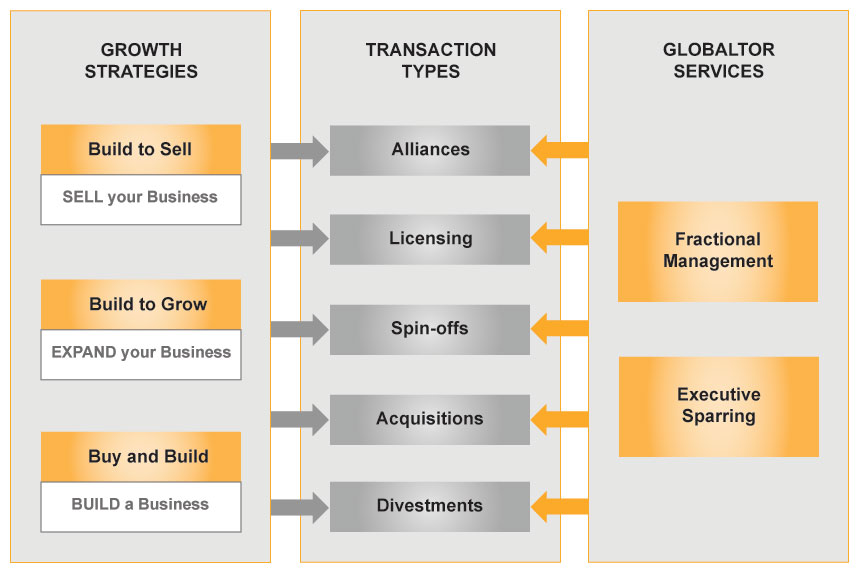 Globalator is specialized on transactions with privately owned small to medium sized businesses across the world. However, we also work with large public companies or investor groups that are interested in transactions with smaller entities.
We generally join our clients' business in a fractional management approach. This means that our transaction experienced engagement executives devote a certain percentage of their time to take responsibility for the management of your transactions utilizing and/or expanding your resources for a limited period of time. Since the long-term success of a strategic transaction depends on proper preparation ahead of a transaction (development phase) and securing the success after the deal is signed (implementation phase), our engagements are often several years, depending on the type of transaction.
In many cases Globalator starts in an executive sparring engagement. This is a great option is a good way to start working with us, before you entrust us with your transaction project. During such a sparring work relationship our engagement executives support your CEO or senior executive team as a continuous sparring partner along the process from the backend and your team stays in charge.
We would be happy to discuss with you the best strategy for the future of your business and determine if Globalator can play a role in that. You will find that our approach can also add value to you.
Globalator offices are located in the USA (San Diego, California), UK (London) and in Austria (Vienna).