The History of Globalator
Here is an overview for those that would like to understand the story behind Globalator and the transformations the business went through since its start in 2001.

The "Wild West Years" (2001-2004)
The founders of Globalator met in the late 90s when Juergen Graner did his MBA at London Business School and Peter W. Bennett was involved at the school as a business angel. While they lost sight briefly after Juergen's graduation in 1999, they re-connected in 2000 to lecture together in Kharkiv (Ukraine) on leadership development at a program that connected a number of local universities. While never having taught together before together, Juergen (33 years old back then) and Peter (55 years old back then) delivered a memorable performance with raving reviews in Kharkiv that created the spark of a long-lasting friendship.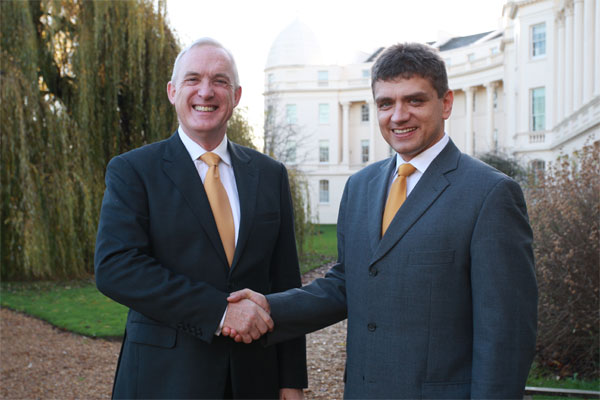 Under the leadership of Juergen Globalator Ltd. was founded in the UK in partnership with Peter to be used as a vehicle for both of them to do deals together. Over the years Juergen and Peter engaged in a wide variety of activities including, the creation of a technology incubator in Austria, the establishment of a team to do technology licensing globally, waste incineration development in Eastern Europe, real estate development in Croatia and preparing companies for an exit (what we now call "build-to-sell"), just to name a few. The joint engagement of Juergen and Peter was not only driven by business success, but also by having fun with the activities – and fun we had.
The "M&A Transformation Years" (2005-2009)
In 2004, Juergen decided that he wanted to focus the activities on one area, where Globalator could make a difference globally. After a long analysis phase Juergen sat down with Peter and told him that he would like to change the way M&A transactions are done. The numbers painted a clear picture – most M&A transactions globally are failures and result in low or no return on investment and cause misery of employees on both ends. Peter also agreed that this was a business area that was worthy of change.
The theory was that by focusing on the people behind the transaction instead of just the financials, plus by preparing transactions long before the transaction and accompanying them well into the integration (a long-term managerial approach instead of a short-term advisory and disintermediation approach) transactions would massively improve their chances for success. In order to proof that theory Juergen took on a number of engagements to buy businesses (acquisitions) and sell businesses (divestments or exits). Due to Juergen's personal interest in working with science or engineering driven businesses the focus was on technology companies. In 2007 Globalator GmbH was formed in Austria to advance those activities, since Juergen lived in Austria during those years.
On the buy-side Juergen completed a number of global acquisitions, including some where he actually became interim CEO of the companies that he bought in order to proof the managerial approach versus the advisory approach. Amongst other engagements Juergen became interim CEO of companies in South Korea, Belgium and France.
On the sell-side Juergen transformed some of his CEO coaching engagements into build-to-sell engagements, where he was optimizing companies for an exit as part of the senior leadership team. In different engagements Juergen's roles changed between Board positions and active interim management positions to establish certain functions and capabilities as needed (again a managerial approach instead of an advisory approach). One of the successes that culminated this phase was the exit of a biotech company in Austria that was sold in 2009, after many years of building towards this exit. The great success was not just based on the monetary rewards for the founder that allowed him to retire at age 50, it was also that the company was built to secure the future of the employees. After being sold to a US company in 2009, the acquirer was further sold to a US publicly listed company in 2011, which was then further sold to another US publicly listed company in 2016. During all these years and well beyond (12 years and counting) the company was further expanded in its location in Austria and the CEO that was built-up over the years and put in place in 2009 during the exit remained in charge. A great proof of the theoretical concept that a managerial approach to M&A can secure success of a business well beyond the financials.
The "Transaction Based Growth ManagementTM" Years" (2010-2021)
In 2010 Juergen moved with his family to San Diego in the USA and formed Globalator LLC. He also decided to expand the concept further in the US by adding other strategic transactions to the services offered by Globalator (alliances, licensing, spin-offs in addition to acquisitions and divestments). Unfortunately shortly thereafter Peter W. Bennett had a serious accident that did not allow him to be actively involved in the business anymore. However, to this day Peter remains connected with Globalator and Juergen, providing input from afar.
While during that period of time in the US Juergen reduced his operational roles at companies, he generally worked with companies in a Board member function to support the growth of companies through alliances, licensing, spin-offs, acquisitions and divestments from within the senior leadership of the business.
With around 20 years of executive teaching engagements under his belt and over 25 years of management experience, Juergen decided in 2018 to take all the learnings from the years about how to make strategic transactions work into a concept that could be taught. He called the model "Transaction Based Growth Management". Juergen initially gave a short presentation about it at a local conference in San Diego. Due to the tremendous feedback from the audience Juergen further expanded his lecturing on that topic. Since 2019 Juergen has been keynote lecturer at conferences, taught classes to senior executives and published articles on the topic of Transaction Based Growth ManagementTM in Europe, the USA and Asia.
The "Build-to-Sell Years" (since 2022)
With the desire to further expand Globalator based on all of that knowledge foundation built and to make it scalable beyond the individual founder, Juergen decided in 2022 to focus the Globalator activities on building companies for an exit based on the Transaction Based Growth ManagementTM principles (Build-to-Sell powered by Transaction Based Growth ManagementTM).
Unfortunately most companies are not optimized and prepared for an exit. This is one of the key reasons that acquisitions fail. We believe that we can make a difference to build companies that are ready for an exit with better results for the sellers as well as for the buyers – a true win-win situation.
"May your next strategic transaction be a successful one."
With best wishes from the Globalator Founding Team
Juergen Graner & Peter W. Bennett