Note from the Founders
Originally we wanted to focus only on the mergers & acquisitions (M&A) market because based on our own experience with traditional consultants, investment bankers and advisors, we felt that most of them forgot about one important thing in their daily work: THE PEOPLE.
The focus on the transaction itself, and the lack of focus on the people involved, is what we believe to be the main reason why mergers & acquisitions go wrong. According to a Harvard Business Review article from 2016 typically 70-90% of acquisitions are abysmal failures. This is something that we felt needed changing, and where Globalator could make a real difference.
When we initially set out to prove our concept of people-focused M&A activities, we learned very quickly from our engagements that we needed to be broader than just understanding buying and selling companies. Our clients expect from us to be able to help them to achieve results. Their desire to buy another business, or divest their own entity usually is only an expression to achieve certain results. However, if during the preparation or implementation of an acquisition or a sale other strategies arise, which might be a better alternative to achieve the desired outcome, our clients want us to be able to switch direction as needed.
We have also found that seeing the sale of a company as an end in itself could be value destructive. However, when handling the sale as an actual growth opportunity for the business with a change in ownership, a much broader spectrum of opportunities arise to create value for shareholders and employees.
As experienced managers and CEOs, we found that only by offering a full package of integrated management services to support the international growth of companies through alliances, licensing deals, spin-offs, acquisitions and divestments, we can really provide our clients with the value proposition they are looking for.
Our mission is to enable our clients to manage international growth through strategic transactions successfully. Whether it is from Build-to-Sell, Built-to-Grow, or Buy-and-Build strategies, we remain obsessed with the ultimate goal of creating superior value in the international growth of businesses with transactions.
We truly hope that what we set out to do with Globalator can also make a difference to you, your people, and your business.
Your Globalator Founding Team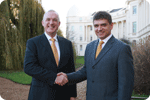 Peter W. Bennett & Juergen Graner