Peter W. Bennett
Co-Founder & Director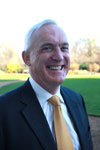 Peter has spent the last 40 years as an entrepreneur, lawyer, advisor, business angel, board member, and personal coach making a difference to the growth of businesses.
After a number of years working on high profile litigation cases in California and the UK, Peter bought a small law firm in the UK, which he turned into one of the largest and most profitable British law firms within 12 years. Later he became director of a struggling UK local newspaper. Within 11 years  Peter turned it into the most profitable newspaper in the UK, and sold it to one of the large British publishing houses. After setting-up a venture capital company, Peter decided to become a private investor (business angel). He was the founding President of the Enterprise 100 business angel club in London, which is one of the most successful business angel clubs in the UK.
Besides the UK based successes, Peter has always had a strong interest in international business endeavors. His experience spans the globe from the USA, via the UK, across Central and Eastern Europe all the way to Asia. He has worked on numerous international engagements from real estate to merger and acquisitions as a manager, advisor, and investor.
Peter holds a Law Degree LLB Hons from the University of Birmingham, qualifying as a solicitor shortly thereafter. 25 years and two major success stories later, Peter completed the Senior Executive Program at London Business School to brush up on the latest in management thinking.
Industry Specialties:
Services

Publishing

Consumer Goods